Intimations
JAM Kids' focus: The Virtual Sunday School – 'Saul's Conversion'. Here is the link for Sunday 17 January 21 Virtual Sunday School:
JAM young adults Ignite Live have a separate programme at 11:30am. Please contact Gary Torbet on garytorbet@btinternet.com for more details of today's programme.
Baptist Union of Scotland National Prayer Livestream – The monthly prayer livestream takes place next on Sunday 7 February, 2021 7.00–7.30pm.
Call to worship
I waited patiently for the Lord;
He turned to me and heard my cry.
2 He lifted me out of the slimy pit,
out of the mud and mire;
He set my feet on a rock
and gave me a firm place to stand.
3 He put a new song in my mouth,
a hymn of praise to our God.
Many will see and fear the Lord
and put their trust in Him.

4 Blessed is the one
who trusts in the Lord,
who does not look to the proud,
to those who turn aside to false gods.
5 Many, Lord my God,
are the wonders You have done,
the things You planned for us.
None can compare with You;
were I to speak and tell of Your deeds,
they would be too many to declare.

Psalm 40:1-5
Our opening song of praise and worship is 'O Lord my God'
Opening prayer
Lord Jesus we come with a sense of awe and wonder at the amazing privilege that is ours to come before You today with our praises and our prayers. We look around at the universe You brought into being in its magnificent vastness and complexity. 'How great is our God'!

We rejoice in the wonderful blessings that are ours to enjoy as we walk in parks and pathways, along the sands on the beach or in the hills and valleys of this land. Thank you Lord for all the other creatures with which we share this beautiful planet. Help us to take good care of this magnificent environment that future generations may experience the same blessings we have enjoyed.

But help us also to love You and follow You as we are guided by Your Holy Word. May we honour You in the way that we live. Please forgive us once more our sins and equip us with the enabling power of Your Holy Spirit in this another new week. Speak to us through the singing of Your praises and the reading and reflection on Your Word. We bring our prayers in the wonderful all-powerful name of Jesus, Amen.  
Let us say together the words Jesus taught His disciples when He said:
We continue in worship as we sing: 'Waymaker'
All- Age Talk: 'Thank you'
In I Thessalonians 5:16-18 the apostle Paul wrote:
16 Rejoice always, 17 pray continually, 18 give thanks in all circumstances; for this is God's will for you in Christ Jesus.
I want us to stop for a few moments of silence and to ask ourselves this question: 'For what or for whom am I thankful today?'
I wonder what thoughts came first into your mind – for many of us a named person will come to mind; for others maybe an act of kindness. I thought of someone in our church who makes time to write letters or cards of encouragement to other people as a ministry they can exercise in lockdown.

In the live service I will ask for a few people to share very briefly what or whom they are thankful for and why; maybe you can share your answer with someone in your home or if you live alone mention it in a phone call or some other means of messaging to someone else.
There are many problems to address in this world. We could draw up a very long list and feel thoroughly depressed at the end of such an exercise! However, even though every entry on such a list might be true, it is not good for our emotional or mental health to focus on that for too much of the time.
The apostle Paul will go on to speak about some things that were so hard for him that he almost felt he might even die. There were times when he and his team members were so sad or depressed that they were tempted to give up because life was just too hard. In the lists of problems he faced he didn't include a virus pandemic, but if God could help him and his friends keep going with their problems he can help you and me today too.
Take a few moments to think about something you want God to help you with today. Then, take the time to pray – for one thing to thank God for and one thing to ask Him for in expectancy that He will answer your prayer. The Bible never promises us that God's answers will be what we are expecting, but it tells us that God will always hear and answer our prayer. Now that in itself is something to be thankful for!
Our next song is an All-Age song of praise: 'My hope is in the Lord'
Prayers for others

Heavenly Father,
We are very conscious of the seriousness of the health situation in our country with the rapid growth in numbers of people testing positive with the new strain of the Covid-19 virus. We pray in particular for the overstretched health care workers seeking to care for them in our hospitals and pray that there may be increased numbers of medical staff provided to cope with the increased demands upon our hospitals. We pray too for the people living in nursing homes and other supported accommodation that the staff there also will have the necessary resources to support all the residents under their care.
We also bring before you all those working in our nurseries, schools, colleges and universities. We pray for wisdom as they continue to adapt to new ways of working, especially online learning, and ask that all children and young people who need it will have the necessary access to the technology required for it.
We particularly pray for the older children in the key examination years and ask that ways may be found to ensure that they can complete the necessary work expected and also that an appropriate assessment system can be put in place to ensure that no-one one is unfairly disadvantaged going forward.
We give thanks for the work of various Christian debt counselling agencies. We pray for the volunteers from within our churches who work with these agencies to help people in debt and despair find freedom and hope. We pray too for those struggling with debts that each person will be able to find a person or people or an appropriate agency with the necessary skills to assist them through this difficult time.
We give thanks for the Deep Impact youth conference online yesterday and hope that Gary, Aedan and Natanya were encouraged as they took part in it. We pray God's blessing on all the people involved in youth and children's ministries in churches across this country. This last ten months have been so difficult for them planning and leading appropriate online events when face-to-face events have been necessarily limited. We pray for wisdom for all concerned as they continue this work in 2021     
We pray for the following chaplain and churches:
Graham Bell (Chaplain, HMP Glenochil) – We give thanks for the use of in cell technology over recent months which have allowed services and other programmes to go out throughout the prison. We give thanks that there have been no cases of covid in the jail at Glenochil. We continue to pray for the work of chaplaincy – in demand now as much as ever.
Alva BC – We praise God for His hand upon this fellowship, as they continue to grow and reach out to people in the community with the good news. We pray for God's blessing on the work of Alva Baptist Church, and thank God as people from differing backgrounds are being transformed, and grow together in grace.
Ardbeg (Rothesay) BC – We pray for continued imagination, creativity and perseverance and they seek to remain faithful together in unpredictable and ever changing circumstances. We join them in giving thanks for the beauty of creation and the ever present faithfulness of God in the changing seasons.
Arran BC – We join them in praying for their work on the island of Arran; we pray that while they can't meet together face to face that the mini services online and cd will be encouraging and the weekly phone calls will continue to bind them together as a family. We thank God that there have only been a small number of Covid cases on Arran and are also encouraged by the growing number of folks who are being ministered to through their online services.
We come to pray for the needs in our own congregation:
We are grateful for the improvements for Betty W and the good news that she is now making progress at home. We are thankful too for Bill D's progress and pray that as he is rehabilitating in Arbroath Hospital he may soon be well enough to return home. We continue to remember Dorothy and Jim G in our prayers, likewise for Isdale's dad, and for Fiona and Frank K that God may grant the strength needed at this time. We pray too for Fergus R with his ongoing health problems. We are grateful that Helen S's operation went well last week and pray that things may go well as she goes back to hospital this week also.
We continue to pray for the Torbet family, as they prepare for Ali's dads funeral. We continue to pray also for Nicola L's dad, Lawrie, as he recovers from major surgery and for Shona H's niece Lynne too that she may make a good recovery.
We continue to pray for those with ongoing health conditions and bring them before You now…
We now pray silently for anyone else known to us who is in need of our prayers at this time…..
We pray also for our own needs…
We bring all these prayers before you in Jesus' name,
Bible Reading
Paul, an apostle of Christ Jesus by the will of God, and Timothy our brother, To the church of God in Corinth, together with all his holy people throughout Achaia: 2 Grace and peace to you from God our Father and the Lord Jesus Christ.

3 Praise be to the God and Father of our Lord Jesus Christ, the Father of compassion and the God of all comfort, 4 who comforts us in all our troubles, so that we can comfort those in any trouble with the comfort we ourselves receive from God. 5 For just as we share abundantly in the sufferings of Christ, so also our comfort abounds through Christ. 

6 If we are distressed, it is for your comfort and salvation; if we are comforted, it is for your comfort, which produces in you patient endurance of the same sufferings we suffer. 7 And our hope for you is firm, because we know that just as you share in our sufferings, so also you share in our comfort.

8 We do not want you to be uninformed, brothers and sisters, about the troubles we experienced in the province of Asia. We were under great pressure, far beyond our ability to endure, so that we despaired of life itself. 

9 Indeed, we felt we had received the sentence of death. But this happened that we might not rely on ourselves but on God, who raises the dead. 10 He has delivered us from such a deadly peril, and he will deliver us again. On him we have set our hope that he will continue to deliver us, 11 as you help us by your prayers. Then many will give thanks on our behalf for the gracious favour granted us in answer to the prayers of many.

II Corinthians 1:1-11
Before we come to listen to God's Word let us sing: 'By faith'
The Message – II Corinthians 1:1-11 Welcome to the Christian Life
Introduction
'Come to Jesus and your problems are all over?' 'Follow Jesus and life will get easier?' Not true! In many parts of the world life will become considerably harder and in a growing number of countries active discrimination, potential loss of employment, possible imprisonment or even martyrdom for your faith might be your lot. Anyone who has been told it is easy to live as a Christian has been 'mis-sold' the good news of the gospel. Jesus in Mark 8:34-36 Jesus told His first followers these clear words:

Then He called the crowd to Him along with His disciples and said: 'Whoever wants to be My disciple must deny themselves and take up their cross and follow Me. 35 For whoever wants to save their life will lose it, but whoever loses their life for Me and for the gospel will save it. 36 What good is it for someone to gain the whole world, yet forfeit their soul? 

In the same way Paul's second letter to the church in Corinth explains just how hard it can be to live the right way, speak in appropriate ways and to have right attitudes towards other people. There can be a cost to integrity when others around us chose a different approach.

I am aware on the day I am writing this message of a news story in some media today of the consequences for an outstanding Anglican prison chaplain who spoke out courageously against some appalling things going on in that High Security Prison. The matter will now be heard in open court, but it appears that the man who refused to be intimidated by those involved in this misconduct is the one who was punished for damaging the reputation of the institution concerned. The details cannot be given in the light of current legal proceedings, but it is a sobering reminder that doing the right thing can be costly for us or anyone else.

Today, some of the hearers or readers of this message may be going through exceedingly hard times. It may be excessive work pressures in your workplace. We particularly pray at the present time for the staff in hospitals that are close to being overwhelmed with the current numbers of patients being admitted with the covid-19 virus. Some of the interviews with doctors and nurses on our TVs and radio in the last week or two have been profoundly concerning with respect to the pressures they are facing on a daily basis.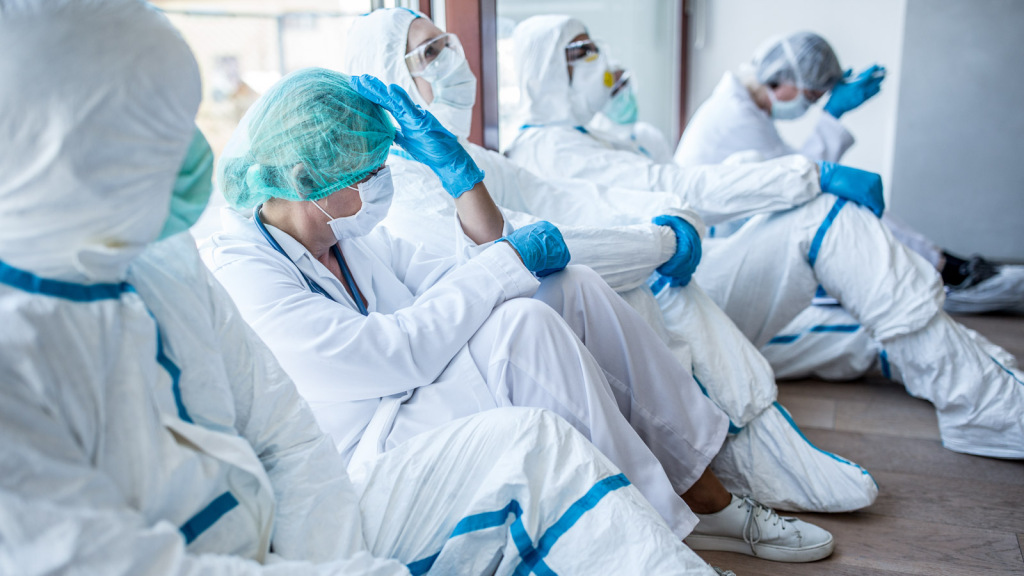 However, your struggles may not be in your workplace. Some people have ongoing health issues or difficult family circumstances. Others under extreme financial pressures or feeling so lonely with not being able to meet up with family or friends; Paul in this letter speaks powerfully into the real world in which we live at present. Let us look at the social context into which his message was sent in the middle of the first century AD.      
 Corinth was a relatively new city. The ancient city had been destroyed by the Romans in 146BC, and abandoned until Julius Caesar ordered its reconstruction in 44BC. Paul makes his first visit there in AD49-50 when its population had reached 80,000 people. It was a vibrant city composed largely of individuals migrating to make a new start in life. Many were former slaves who had been given their freedom; others were former Roman soldiers and their families settling down in this new community after completing their twenty-five years of service in the Roman Army.

There was no aristocracy or historic powerful families that controlled its governance. Its typical businesses were small run by self-employed people. It  was a city popular with young adults with an eighteen thousand-seater theatre and a concert hall with a capacity for three thousand people to attend events. It was well known as a key sporting venue in the ancient world and the Isthmian Games, second only to the Olympics, were held in Corinth.

In many ways it was like a frontier city in the westward expansion of the United States in the nineteenth century. Like other places there were temples for the Greek and Roman gods and major festivals were incredibly popular, but in terms of day to day life the values and attitudes of local people and the many visitors to Corinth were far from sympathetic to the beliefs and the way of life Paul and his fellow Christian missionaries were sharing with them.

It was one of the toughest places in the Roman Empire to plant a church and disciple a new congregation. Luke, a Christian doctor and companion of Paul, wrote in the book of Acts chapter eighteen about the time Paul spent in that city when the church to whom this letter was written was planted around seven years earlier. The apostle had persevered through some exceedingly hard times to establish a church he could entrust to the care of other leaders, though he kept in touch with them through exchanges of letters and occasional visits to him from church members.

It was clear too that not everyone in the church was keen to maintain fellowship with Paul so it was at best a strained relationship. However, there is much we can learn from this correspondence between their former pastor who loved them deeply and prayed for them regularly and this Greek congregation.       
What does Paul speak about in the opening section of this letter?
1. The calling to Christian service (II Corinthians 1:1-2)
(a)The foundation of our security II Corinthians 1:1a … by the will of God. Paul, an apostle of Christ Jesus by the will of God, and Timothy our brother, In Corinth they loved the charismatic entertainers and eloquent public speakers. For some strange reason, relatively well-off, charming and good looking individuals who told you what amused you, or who proclaimed what you wanted to hear, were particularly popular in this city! Paul did not fit this description.

A latter historical novel written a few years after Paul's death in the 60s AD contained a description of the apostle. 'He was a man small in size, bald-headed, bandy-legged, well built with eyebrows meeting, rather long-nosed, full of grace.' [See P.E. Hughes, II Corinthians, p.1]. Although most of the novel's content has no basis in historical fact, it is assumed by most scholars that this description of Paul is probably reliable. Although a man who was intellectually one of the great Jewish theologians of his day, this was of no significance whatsoever to most of the locals in Corinth who were unimpressed by his appearance and his plain-speaking together with his fairly long sermons!

It doesn't matter who you are, how successful you are in life, there will always be others who will be critical of what you have done or how or why. All of us are sinners so we make mistakes. All of us are imperfect creatures so we can benefit from the wise advice from other people to improve what we say and do and need to listen to each other. Yet, having said that, there are too many people, sadly including some who profess Christian faith, who are incredibly quick to fire critical comments at others, especially but not exclusively on social media.

Corinth was not a comfortable place for people who felt insecure in their identity or self-worth. When living through incredibly stressful times like the present we must be particularly sensitive to focus on building one another up, because our resilience to handling setbacks is diminished. So where does our security lie?
Paul declares upfront the secret of his personal resilience; how he was enabled to continue his ministry despite some awful difficulties. II Corinthians 1:1a states: Paul, an apostle of Christ Jesus by the will of God. It was not the title he could have worn on a name badge or the impressive entry he could have placed on his curriculum vitae (CV) –had they been invented all those years ago! His secret source of assurance was his calling into this ministry by God. The security you and I have as followers of Jesus is because we are children of God.

By faith, we accepted the gift of salvation, obtained for us through Jesus' perfect sufficient sacrifice as a substitute for sinners on the cross. God the Father loves you and me because of Jesus. He sees the sacrifice of His Son in its infinite value to all who seek to be His children through faith in Him. Paul from the time of his conversion saw himself identified with Jesus. He committed his whole life to telling others about Jesus, the Messiah [or the Christ] promised in the Old Testament. He was not promoting 'Paul of Tarsus Ministries' but Jesus. He was not seeking personal glory and praise but to direct it to God. Too often Christians can fall into the trap of asking God to give us what we want, rather than asking Him to give us what He wants us to have. This latter way is the Jesus way, as He directed His followers to pray in Matthew 6:10: Your kingdom come, Your will be done, on earth as it is in heaven.            
(b) The focus of our calling (II Corinthians 1:1b-2) To the church of God in Corinth, together with all His holy people throughout Achaia: 2 Grace and peace to you from God our Father and the Lord Jesus Christ. In the Western world we tend to focus too much on individualism or my family's wants or needs which are important, but in New Testament references to the people of God tends to be plural. We are in it together.

What we can accomplish for God in serving collectively is far greater than what we could do on our own. Paul places a greater emphasis and priority on being a part of the Church of Jesus Christ, both universal and local, than many professing Christians today. Despite the 'rough edges' of some believers and our difficulties at getting on with others, God has called us to work together to help build His kingdom on earth.

He also highlights the blessings we ought to share with one another and other people. The grace of God that ministers to people in their times of need; the peace of God that is so much needed when so many are filled with anxiety about today, let alone next week or next month! How are you and I seeking to do that in 2021? Never underestimate the effectiveness of a grace-filled life, and a prayerful one, but equally there are times when words of witness are powerful too.    
2. The comfort of God (II Corinthians 1:3-7)
(a)Declared (II Corinthians 1:3)3 Praise be to the God and Father of our Lord Jesus Christ, the Father of compassion and the God of all comfort… We are created to be a people of praise with thankfulness for our blessings. It is so easy to overlook the good things we enjoy and to fail to acknowledge or appreciate them. It is so much easier to focus on our difficulties, our disappointments and other problems. When times are hard and energy levels are at times close to empty it takes a lot of mental exertion not to be overwhelmed by the challenges in front of us. If we are sleep deprived as well then our ability to keep things in perspective is even more diminished.

Paul in I Thessalonians 5:18 wrote these extraordinary words: …give thanks in all circumstances; for this is God's will for you in Christ Jesus. Please note that Paul wrote 'in' not 'for' all circumstances. There is a world of difference between the two. Paul in this letter will shortly go on to describe just how tough things have been for him. Yet still invites us and his first readers / hearers to make the effort each day to find things for which we can give God thanks each day. It is a conscious choice we are being invited to make so as to try and retain a sense of perspective on our lives when we are going through very difficult times. One thing that might help as an aside is not spending too much time listening to the news about the virus pandemic. We need some information, but all our lives are about so much more than that. What can you and I give God thanks for as our blessings today?      
(b) Experienced (II Corinthians 1:4-5) …4who comforts us in all our troubles, so that we can comfort those in any trouble with the comfort we ourselves receive from God. 5 For just as we share abundantly in the sufferings of Christ, so also our comfort abounds through Christ. 'Paul you don't understand my circumstances' or 'If you had been through what I have been through, you wouldn't be looking for positive things to thank God or anyone else for', might be opinions someone might express.

We need to remind ourselves what was in the CV of life experience before Paul wrote this letter. II Corinthians 11:23b-28: I have worked much harder, been in prison more frequently, been flogged more severely, and been exposed to death again and again. 24 Five times I received from the Jews the forty lashes minus one. 25 Three times I was beaten with rods, once I was pelted with stones, three times I was shipwrecked, I spent a night and a day in the open sea, 26 I have been constantly on the move. I have been in danger from rivers, in danger from bandits, in danger from my fellow Jews, in danger from Gentiles; in danger in the city, in danger in the country, in danger at sea; and in danger from false believers. 27 I have laboured and toiled and have often gone without sleep; I have known hunger and thirst and have often gone without food; I have been cold and naked. 28 Besides everything else, I face daily the pressure of my concern for all the churches.

No-one could call this a sheltered and comfortable existence. What is more, notice that Paul stated: 4who comforts us in all our troubles. There is no exclusion of virus pandemics, state initiated discrimination or terrorist persecution for our faith or any other particular time of hardship. Out of an incredibly difficult experience of life Paul could testify to experiencing the amazing love and care of God. Yet the reception of this comfort or encouragement from God is with a view to passing it on…so that we can comfort those in any trouble with the comfort we ourselves receive from God.
Dietrich Bonhoeffer, a Lutheran pastor and theologian was imprisoned by the Nazi government in 1940s Germany for some time prior to his execution in 1945. He sent many letters to friends and family and especially to his fiancée Maria von Wedemeyer.
One of the last messages received by Maria before his execution was a poem entitled "New Year 1945."  Written from a Gestapo-run prison during the air raids on Berlin, Bonhoeffer's words still hold their meaning for us today despite vastly different contexts.
With every power for good to stay and guide me,
comforted and inspired beyond all fear,
I'll live these days with you in thought beside me,
and pass, with you, into the coming year.
While all the powers of good aid and attend us,
boldly we'll face the future, be it what may.
At even, and at morn, God will befriend us,
and oh, most surely on each new year's day
The old year still torments our hearts, unhastening:
the long days of our sorrow still endure.
Father, grant to the soul Thou hast been chastening
that Thou hast promised—the healing and the cure.
Should it be ours to drain the cup of grieving
even to the dregs of pain, at Thy command,
we will not falter, thankfully receiving
all that is given by Thy loving hand.
But, should it be Thy will once more to release us
to life's enjoyment and its good sunshine,
that we've learned from sorrow shall increase us
and all our life be dedicate as Thine.
To-day, let candles shed their radiant greeting:
lo, on our darkness are they not Thy light,
leading us haply to our longed-for meeting?
Thou canst illumine e'en our darkest night.
When now the silence deepens for our harkening,
grant we may hear Thy children's voices raise
from all the unseen world around us darkening
their universal paean, in Thy praise.
[https://jamesfenwick.wordpress.com/2010/01/01/a-poem-for-new-years-day/ accessed 12.1.21]
Three months later just as the war was ending Bonhoeffer was hanged on Hitler's orders in Flossenburg prison. Eighteen years later another bride to be whose fiancé had died from injuries obtained through a leisure activity accident gained much comfort from this poem. She in turn passed a copy of the poem to her fiancé's parents Joe and Mary Lou Bayly. Joe published this poem in a small book of poems called Heaven aiming to offer comfort to other bereaved families.

Twelve years later he got a letter from a pastor friend in Massachusetts who had given a copy of the poetry book to a terminally ill woman in a Boston Hospital. Despite being close to death, on her last evening she stayed awake long enough to read this particular poem and gained great comfort from it. Before she died the next day she shared this fact with this un-named pastor.

Her name was Maria von Wedemeyer-Weller, Bonhoeffer's fiancée (R Kent Hughes, II Corinthians, pp. 21-22). Who might be so blessed by an act of kindness you did this coming week that they determined to comfort someone else…who knows how God might use you and I if we are available to Him?           
(c) Applied (II Corinthians 1:6-7) 6 If we are distressed, it is for your comfort and salvation; if we are comforted, it is for your comfort, which produces in you patient endurance of the same sufferings we suffer. 7 And our hope for you is firm, because we know that just as you share in our sufferings, so also you share in our comfort.

We live in a troubled world where there are so many people in need of God's compassion experienced through the kind attitudes, speech and actions of ordinary Christians like you and me. Like Paul we will have times when we cry out to God that our troubles are almost or apparently beyond our capacity to handle. Should we be surprised that life can be tough sometimes for a follower of Jesus? No! The New Testament is very clear on this point.

In I Peter 2:20b-21, the apostle Peter wrote: But if you suffer for doing good and you endure it, this is commendable before God. 21 To this you were called, because Christ suffered for you, leaving you an example that you should follow in His steps. Paul and Peter as older Christians both wanted to assure younger believers that as they remained faithful to God during their times of hardship, God would comfort and encourage them in and through those times. The same principle is true for you and me today as well in our hardest times.
3. Death and Resurrection (II Corinthians 1:8-11)
(a)A description of his suffering (II Corinthians 1:8-9a) 8 We do not want you to be uninformed, brothers and sisters, about the troubles we experienced in the province of Asia. We were under great pressure, far beyond our ability to endure, so that we despaired of life itself. 9 Indeed, we felt we had received the sentence of death.  

Paul wanted to emphasise to the Christians in Corinth that the difficulties he and his church-planting teams experienced were not mere inconveniences, instead severe trials and on some occasions they did not expect to come out alive. In the current virus pandemic health and social care workers have willingly given their lives for their patients or home residents. In other countries pastors and other church members have died supporting people who contracted the virus.

I have had a number of message exchanges or phone conversations with pastors in economically-disadvantage countries over the last year. I have been humbled by the sacrifices some of them have been making to share food with hungry people alongside the good news of the Christian gospel. Some could have given up those hard situations and concentrated in serving in other places, but felt led to continue to serve others in Jesus' name.

I thank God for examples much closer to home of Christians that I know who, alongside others, have honoured God during this virus pandemic by enduring some incredibly tough circumstances as health care or social care or as other essential workers in our community. From my heart, I and others here want to acknowledge our debt of gratitude to you for what you have done, are doing and will do before this virus pandemic is finally overcome. Someone or some people reading or hearing this message may identify with the feelings described in these verses. You are not on your own. There are people willing to support you in any way they can to get you through this overwhelmingly difficult time.    
(b) The purpose of his suffering (II Corinthians 1:9b-10) But this happened that we might not rely on ourselves but on God, who raises the dead. 10 He has delivered us from such a deadly peril, and He will deliver us again. On Him we have set our hope that He will continue to deliver us…

Many of us have had times of crushing disappointment. Relationships that crumbled, or precious loved ones who died so unexpectedly; or church difficulties that caused such heartache or work or career trials, shattering health diagnoses and the list we could all add too can be exceedingly long.

In II Corinthians 4:10-11 Paul wrote: We always carry around in our body the death of Jesus, so that the life of Jesus may also be revealed in our body. 11 For we who are alive are always being given over to death for Jesus' sake, so that His life may also be revealed in our mortal body. In north-east Scotland where we are privileged to live we have to admit that few of us can testify that this has been our regular experience of life.

In contrast, for example, to Christian brothers and sisters in northern Nigeria, Somalia, and Eritrea; the apostle wants to encourage us all that whatever our lived experience to date – God's grace will be sufficient to meet our needs. On Him we have set our hope that He will continue to deliver us…  Do you need to hear these words of encouragement today? Nothing is too difficult for God.

C.S. Lewis wrote at the end of his famous work Mere Christianity: 'The principle runs through all life from top to bottom. Give yourself up and you will find your real self. Lose your life and you will save it. Submit to death, death of your ambitions and favourite wishes every day, and death of your whole body in the end; submit with every fibre of your being, and you will find eternal life. Keep back nothing. Nothing that you have not given away will be really yours. Nothing in you that has not died will ever be raised from the dead. Look [not for yourself] But look for Christ and you will find Him, and with Him everything else thrown in.' [C.S. Lewis, Mere Christianity, p.189]When we have faith in such a great God we will have a solid basis for present and future hope.
(c) Prayer and his suffering (II Corinthians 1:11) …as you help us by your prayers. Then many will give thanks on our behalf for the gracious favour granted us in answer to the prayers of many. God's kingdom will be advanced by Easter people; that is, those who identify with the crucified, risen, ascended Saviour Jesus. Those people willing to die to self and live for Him. What is more, through prayer we invest in the lives of other people more than we ever imagine is possible. Are you committed to investing in the lives of other people through prayer in 2021?

At times our lives may be more difficult than we ever imagined possible, but we have hope in God, not hopelessness; we may feel overwhelmed with pressure, troubles or even in the worst cases think death may be near, but we rejoice in resurrection life – where God intervenes in mighty power as He did that first Easter Sunday. We can face uncertain futures because we know through God's Word that even physical death is not the final word, because in Jesus' footsteps we will overcome death and enter eternal life. Welcome to the Christian life, a way of life that at times is more difficult than we ever imagined, but equally a pathway to blessings greater than we will ever pray for and ultimately joy unspeakable that is literally out of this world. Amen.     
Our song before we come to communion is: 'Yet not I but through Christ in me'
The Lord's Supper
Jesus invites all Christian who have committed their lives to follow Him to participate in this act of worship. The apostle Paul wrote these words of Scripture in I Corinthians 11:23-26 to guide our observance of Communion.
For I received from the Lord what I also passed on to you: the Lord Jesus, on the night He was betrayed, took bread, 24 and when He had given thanks, He broke it and said, 'This is My body, which is for you; do this in remembrance of Me.' 25 In the same way, after supper He took the cup, saying, 'This cup is the new covenant in My blood; do this, whenever you drink it, in remembrance of Me.' 26 For whenever you eat this bread and drink this cup, you proclaim the Lord's death until He comes. 
Prayer: Choose your own words of prayer to give thanks for the bread and wine that represent the costly gift of His body and blood for us.
Take the bread: Jesus said: 'This is My body, which is for you; do this in remembrance of Me.
Take the wine: Jesus said: This cup is the new covenant in My blood; do this, whenever you drink it, in remembrance of Me.'
Our closing song is: 'In Christ alone my hope is found'
Closing Prayer:
Thank You Lord that You are the God of all comfort who can encourage us and strengthen us in whatever circumstances we find ourselves in this week. We are thankful for the testimony of the apostle Paul that You were sufficient for his every need, and we trust that You will be sufficient to help us in our difficulties and struggles of this new week. We declare that You are the God of resurrection who in the person of Jesus triumphed over even physical death so that we too know that one day we shall triumph over it also prior to eternal life with You once this life is over. In the remaining time allotted to us, in good times and tough, may we experience Your presence with us strengthening and encouraging us through all our times of need, for Jesus' sake Amen.
Benediction:  The Grace