B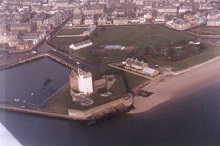 roughty Ferry once a small town on the north shore of the River Tay on the east coast of Scotland, now forms a large residential suburb of Dundee. The Baptist Church is within a conservation area of the original Victorian settlement which also incorporates the main shopping centre, harbour, beach and public services. To the north of the 'old town' are a growing number of large private housing developments. Public transport links with central Dundee (4.5 miles to the west) and the Angus coastal towns are good.
We also have a second building, Panmurefield Baptist Centre. This modern, comfortable and welcoming Centre is for worship and service to the community in Panmurefield 2.5 miles to the east of Broughty Ferry, Dundee.
There are three primary schools and a large secondary school; five Church of Scotland congregations, an independant presbyterian church and single congregations of the Scottish Episcopal and Roman Catholic churches.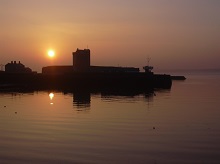 The population of the suburb is upward of 18,000 but immediately to the east lies the Angus town of Monifieth with a population of 7,000. Monifieth and Broughty Ferry are very similar in population mix and range of services. Both are expanding communities and both have been popular sites for the establishment of residential accommodation for elderly persons.
The "jewel in Dundee's crown", Broughty Ferry's fine seafront esplanade and sweeping sands provide the perfect place for a relaxing stroll or a quiet picnic. Broughty Ferry also offers visitors the perfect base from which to enjoy some of the finest golf courses, fishing or sightseeing to be found anywhere in Scotland.