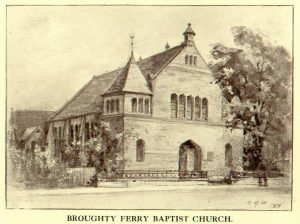 Early records are poor but it seems that around 20 people came together in November 1876 to form a Baptist Church in Broughty Ferry. Two families – the Gibsons and the Cummings – appear to have played key roles in bringing the church into being. John Gibson had been baptised at Cupar, Fife and was a Dundee merchant. Early services were held in a room rented from a working men's club and at the Gibsons' home, now the site of Grove Academy.
A pastor (Rev J. Simpson) led the developing fellowship for around 6 years and under his leadership, funds were raised for a building. This was erected in 1881 on land belonging to the Cummings family. The architect was John Murray Robertson and his work reflected the Arts and Crafts Movement then in vogue. A member of the Cummings family would subsequently donate further land for the erection of a hall in 1903 and leave her home in King Street to the church for a manse in 1921.
Over this period, the church was served by 6 different pastors, all full time. The membership fluctuated between 30 and 70; it was never a big church.
War-time
In the period between the two World Wars, there were two full time pastorates but for most of the time the church was served by part-time pastors, either students or retired Baptist ministers , a situation which was to continue down to 1963. There were peaks and troughs in the membership statistics but generally it hovered around the 50 mark. There was, however, a strong Sunday School and women's work and regular evangelistic efforts.
1970's
A prolonged period without an appointed pastor ended in 1972 when a decision was taken to attempt to fulfil the church's varied ministries from within the membership as far as possible. From that point, the membership steadily increased reaching the 70s by 1980 and the 90s by the 1990s. During the 1960s, new toilets and two additional rooms were added and an active programme of community involvement and evangelism instituted. These ran in parallel with very heavy financial demands resulting from major defects in the fabric of the buildings.
Recent times
By the early 1990s the church felt strong enough to re-open the question of a paid pastorate and by the end of the millennium, a new manse had been purchased and a full time pastor, the Rev Kenneth Jefferson appointed. Membership has grown significantly in recent years and at present stands at over 120 members. In August 2007 the Rev Dr Brian Talbot was inducted to the pastorate of the church.
The faith of those who kept the church going through some very difficult times has been graciously rewarded by the God to whose glory the church was established 125 years ago and which remains the reason for its continuing existence to-day.
Adaptation of a history of the church by Ramsay G Small