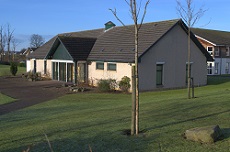 Background
After a successful few years of various community outreach events, our ever popular Boogie Babies, Toddler groups and Messy Church sessions, the church members agreed that the Panmurefield building should be extended. This decision was made in 2015 and a development group was formed to take the planning stage forward. After a lot of careful planning, Dundee City Council gave planning permission on 7 March 2016. Then followed a lot more planning and project work. We are pleased that building work commenced on the extension in early 2017.
We are so excited that our activities are busy enough to require more space and also for the new activities we will be able to offer in the future with the extra room.

Funding
An income generation group was established, with willing volunteers from the church fellowship taking forward the massive task of fundraising for the extension. Most of the monies needed for the extension are in place but we do now need to raise the last amount to cover all of the costs.
Events have included a "Reverse Advent Calendar" which raised £1035, a Pancake day and Quiz Night. We will have more events coming up so please keep an eye on our Facebook page.
Progress Gallery

13 January 2017
17 January 2017
20 January 2017
14 to 24 February 2017
26 to 28 February 2017
Opening Ceremony – 2nd June 2017
We celebrated the grand opening by holding an extra special, and extra big session of Boogie Babies, followed by Messy Church. We then had an exciting opening ceremony. A great crowd turned out to enjoy our bagpiper, face painting, bouncy castle, music and food!
Thanks to Councillor Derek Scott for his great blog regarding the opening.
We had a service of thanksgiving on 3rd June 2017 in the newly extended premises.