Ignite Your Faith – Ministry of Youth
I

ntroduce young people to Jesus.

G

row in their faith.

N

urture meaningful relationships with God and others.

I

ntegrate into the local church and community.

T

o share the good news of Jesus.

E

nabling to serve in Broughty Ferry and beyond.
Life to the Full Project
Broughty Ferry Baptist Church have committed to improve the life chances of young people through contributing to their mental, social and spiritual wellbeing. The aim is to build resilience towards critical challenges and issues in their lives. The project works on the principle that through early and effective intervention at key transitional points in young people's lives, the right support at the right time can prevent situations arising which adversely affect young people and improve outcomes. The project will primarily serve young people aged 11 to 18 years residing in Broughty Ferry, Dundee.

The Life to the Full project received full funding from The Robertson Trust and The Joseph Rank Trust as well as financial donations from the church fellowship. The project started on 1 March 2017 and will be delivered for three years.
For more information, please click on the poster below.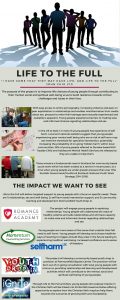 JAM (Jesus And Me) for S1-4 during the 10.30am morning service.
Breakthru for S1-6 – A lively mix of fun, faith, and important stuff in the church lounge 6.30 – 8pm every Sunday except school holidays.
Sticky Faith for S4 – S6 – a small group bible study and discussion to explore life and faith issues at a deeper level.
Chaplaincy – Chaplaincy is offered at the local secondary school, Grove Academy.
Volunteering – a Youth Praise Band, Youth Worship services, community projects, helping the homeless, and at children's able bodies and disabled camps in Romania with Carpathian Aid. carpathianaid.org.uk
Special events – concerts, Christian youth events and outdoor centres away from Dundee.
Pastoral Support – self harm, depression, relationships (Romance Academy) and bullying.
The Baptist Union of Scotland Connect magazine of May 2015 focused on our iGnite youth ministries. Read the informative article here.
All of our paid employees and volunteers have undertaken a PVG Disclosure check.