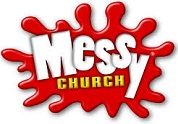 What is Messy Church?
We held our first Messy Church in April 2015 and have several more planned throughout the year. This fun filled event involves creativity, celebration and hospitality i.e. Food, food and more food! We aim to involve everyone in Messy Church and therefore you do not need to be a member of a church to attend. Messy Church is especially designed to reach out to families including those for whom Sunday morning services is difficult due to a variety of reasons such as family circumstances.
What happens at Messy Church?
Each Messy Church has a different story theme taken from the Bible. You will find out more about the story through craft, mess and celebration time. The session finishes with some yummy food (Homemade traybakes if you are lucky!) and time to chat!
Upcoming Sessions
Saturday 13th January, 2-4pm
Panmurefield Baptist Centre, 154 Lawers Drive. We'll hear a story about an amazing thing that Jesus did with loaves and fishes and explore it with our usual crafts, activities, games and songs. The afternoon will finish with some food together. Book a place by email familyworker@outlook.com. Children must be accompanied by an adult. We look forward to seeing you then 🙂
Previous sessions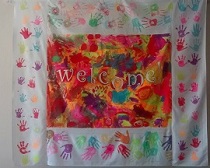 Messy Easter – This is the finished banner from our first Messy Church. The children contributed hand prints and painting, messy indeed! This session also explored the Easter story through craft activities. The kids also enjoyed an Easter egg hunt and then a celebration including action songs.
Joseph Celebration – A great Messy Church session, sharing the bible story of Joseph through crafts, games, songs and a story. Followed by a delicious tea and cakes!! Thank you to everyone who came along.
Rocks and Sand – The children had lots of fun exploring a popular bible story involving lots of mess! Some of the brilliant artwork from the session: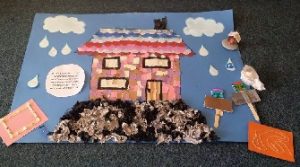 Noah – A fun filled session exploring the story of Noah and his animal filled ark!
The Good Shepherd – Can you guess what this session was about? The clue is in the title! Baa, Baa. Check out some the fun we had and the amazing cupcakes one of our volunteers made….
Christmas 2015 – Some photos of our Messy Church Christmas. We heard about the good news that Jesus was born as a Saviour! If you don't know much about Him, take the time this year to find out for yourself.
Light – This was a particularly messy but enjoyable session for the young ones. We learned that during difficult situations, God is with us to help us through. In the Bible it says 'I am the light of the world. Whoever follows me will never walk in darkness, but will have the light of life.' (John 8v12). Here are some photos from the session:
New Beginnings – The perfect way to start 2016. We heard about a son who had a new beginning after making quite a mess of things. His father showed him the same love and forgiveness that God shows each one of us. It was a busy afternoon for everyone and check out the big cardboard house – impressive!
Daniel in the Lion's Den – Roar!!! We learnt all about Daniel who was thrown in a Lion's den. The children were encouraged to put their trust in God, just like Daniel did when he was afraid.
Jonah and the Big Fish – In June 2016 we focused on the story of Jonah and the whale.
Love your Neighbour – This session focused on "The Good Samaritan" bible story. The children were encouraged to consider ways in which they can help others. We watched a short video film telling the story and sang song fun songs. There was also plenty of arts and crafts as always, and FOOD!
Jesus Light of the World – On 5 November 2016 we had a firework themed session. The bible verse which we focused on was "I am the light of the world. Whoever follows me will never walk in darkness but will have the light of life." (John 8v12)
December 2016 – Celebrating the most popular bible story, the birth of Jesus.
January 2017 – At our first Messy Church of 2017 we heard about a man who had a new start and we thought about what forgiveness means. Our activities included Blowing Bubbles, making a Storyteller, Fizzy Forgiveness, Mat Weaving, moulding Clay Hearts, using Puffy Paint and making the very popular S'mores! Here a few pictures
February 2017 – We had lots of fun with marbling, planting, sticking, baking and even making volcanoes! The topic for the session was "Love Rules" which was particularly relevant for Valentines day. We looked at the story of Mary and Martha in Luke 10:38-42. They both loved Jesus, Martha showed this by inviting Jesus and his disciples round and working hard to prepare a meal for them all, while Mary sat down, spent time with Jesus and listened to him. However Martha was so distracted by her preparations that she became angry with Mary for not helping. As Jesus said, Mary had chosen what is better – only one thing is needed! Love!
June 2017 – "Our Community".
September 2017 – Jesus calmed a storm
We had a lot of fun exploring the story of when Jesus calmed a storm, at our last Messy Church. Creating mini tornadoes, boat cakes, a giant cardboard boat, storm sound effects and other activities too helped us to imagine what it might have been like. We thought about how amazing and powerful Jesus is and that he cares for each one of us. The jelly boats provided as part of our food at the end will never be forgotten!