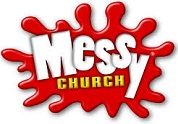 What is Messy Church?
We held our first Messy Church in April 2015 and have several more planned throughout the year. This fun filled event involves creativity, celebration and hospitality i.e. Food, food and more food! We aim to involve everyone in Messy Church and therefore you do not need to be a member of a church to attend. Messy Church is especially designed to reach out to families including those for whom Sunday morning services is difficult due to a variety of reasons such as family circumstances.
What happens at Messy Church?
Each Messy Church has a different story theme taken from the Bible. You will find out more about the story through craft, mess and celebration time. The session finishes with some yummy food (Homemade traybakes if you are lucky!) and time to chat!
Upcoming Sessions

Our Christmas Messy Church is on Saturday 1st December, 2pm – 4pm in Panmurefield Baptist Centre, Lawers Drive. We'll hear about what happened when Jesus was born and our time together will also include crafts, activities, songs and some food. Book a space by email familyworker@outlook.com or via our Contact Us page. Children must be accompanied by an adult and we look forward to seeing you then. Please note that our next Messy Church will be on 12th January to avoid the school holiday time
Previous sessions – 2018

January 2018 – We had one of our busiest times at Messy Church earlier this month and it was great to see everyone there. We learned about what Jesus did with loaves and fish and heard that He is 'The Bread of Life', in our usual messy way!
February 2018 – We talked about what Jesus said about 'Treasure' and thought about what is really important in our lives.
March 2o18 – Unfortunately our session in March did not go ahead due to a massive amount of snow and ice!
April 2018 – Our theme was New Life and we explored this through crafts/activities, songs and a story.
June 2018 -Our session focused on Zacchaeus, a man who really wanted to meet Jesus. We had crafts, activities, songs and some food.
September 2018 – We had lots of fun at our last Messy Church, building giants, taking shots at 'Goliath', painting, drawing, cake decorating, foil scribing, pom pom shooting and giant feet wearing – all to help us learn that God is with us and can help us in every situation we face
October 2018 – We heard a story that Jesus told about seeds which helped us to think about how we respond when we hear about Jesus.
November 2018 – At our Fireworks themed session we thought about different words which the Bible uses to describe God. God is love, creator, light, peace, worthy of praise, our fortress and our shepherd. We also enjoyed some bonfire night themed food!